Delicate, intelligent and emotive, Ardyn is the work of twins Katy and Rob Pearson. Their unique refined electronica sound is layered beautifully and the excellent production work makes the talented song craft shine even brighter.
Formally named Kitten And Bear, the Gloucestershire group take their name from the Latin word for 'Enthusiastic'. They have announced their arrival with the starkly beautiful EP Universe which comprises of four tracks of flawless cold pop. Mixed by Rodaidh McDonald (The XX, King Krule and Sampha), the release certainly benefits from his expertise which helps emphasise the young talent being presented.
"
There's an almost Nordic starkness permeating 'Help Me On My Way', the second cut from Ardyn's debut EP, 'Universe'. "Nothing's gonna fix my broken heart," Katy Pearson snaps, with a sweetly vitriolic tongue, which finds its perfect accompaniment in crisp percussive thuds and twin brother Rob's spidery fretwork.
" -
NME
"
The duo fuse Rob's brooding guitar strums with the cautious croon of Katy, gradually piling more and more layers until the final minute of the track is a sinewy, climactic brew of tangled melodies and messy textures.
" -
The Line Of Best Fit
Currently they are spending equal measures of time on the road and in the studio with new exciting material in the works.
Ardyn tickets are just about the be released. Their gig tickets will become available at 09:00 on Friday 2nd of September.
Touring late in 2016, they will headline at Green Door Store at vibrant Brighton, Louisiana in cultural epicentre Bristol and cool Nottingham club The Chameleon in November. Then, during December they can be seen at St Pancras Old Church in London.
Concert tickets are always limited and demand is high so book early to avoid missing out!
---
Buy Tickets With Confidence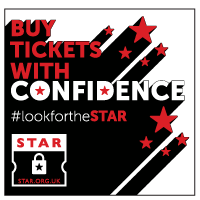 Gigantic are a primary ticket agent and full members of STAR (Secure Tickets from Authorised Retailers)
More info