Annihilator are the ultimate metal band from Ottawa, Ontario. They are Canada's biggest selling heavy metal and thrash band having sold more than three million records across the world.
Their sound draws on a deep pool of influences and you can hear everything from metal to melodic thrash, blues, punk and even classical in their music. With tight riffs and a relentless power, the band still produces massive energy in their amazing live performances even after over twenty four years of touring.
The band was started in 1984 by Jeff Waters. After some years of hard practice and heavy gigging, the band were signed. With the release of the band's debut album Alice In Hell in 1989, the band extended their touring to start playing across the world. The band's success continued with second album Never Neverland which hit #48 in the UK Album charts.
The band have released fifteen studio albums including their thirteenth eponymously titled album Annihilator. Released in 2010 the record is their most critically acclaimed release in over a decade and saw the band take to the road to promote the incredible album and played to ecstatic audiences across Europe, Canada and South America
"
We are truly are among the few bands with a long history, that have always waved the flag for honesty, integrity and perseverance in this hard-edge category of music.
" -
Jeff Waters
The band's latest album is Suicide Society. Released in 2015, it is the first album to feature bandleader Waters performing lead vocals on all the tracks.
Annihilator tickets go on sale Friday 20th of May at 10:00.
Touring the UK, Annihilator will play at O2 Academy2 Newcastle, Academy 3 in Manchester and O2 Academy Islington in London this November.
Order your tickets online through Gigantic. Book early to avoid disappointment.
---
Buy Tickets With Confidence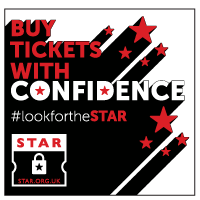 Gigantic are a primary ticket agent and full members of STAR (Secure Tickets from Authorised Retailers)
More info